This is part of the Master
Blog Directory
on Living on Love and Cents
(If you would like to be listed visit
here
for details and then contact me)
Belly Charms
Find out about new jewelry and sales from Belly Charms while getting a glimpse into the crazy busy life of a WAHM of 2 boys under the age of 5.
Thirty One Gifts by Lauren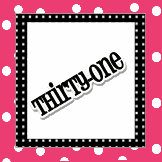 Im a stay at home mom who sells Thirty-One Gifts also! My Thirty-One blog is almost a year old and I offer my followers updated Specials and News about Thirty-One!