Recently I told you about some awesome Nintendo Select games that we have tried out. We have been having a blast with the Mario Super Slugger and the Animal Crossing for Nintendo Wii. If you haven't already click above to check out my review of those games.
I saved our very favorite for last. Wii Console with Mario Kart Wii Bundle – Black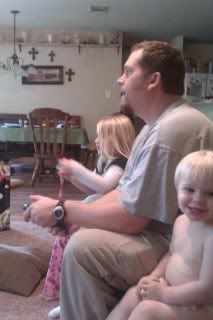 Here is a little more about the
Wii Console with Mario Kart Wii Bundle – Black
Game storyline: Drawing on courses and battle arenas from every game in the series – not to mention tons of new ones – the true king of the Mushroom Kingdom racing circuits will finally be crowned.
The Wii Wheel transforms the Wii Remote™ controller into a steering wheel that feels natural in anyone's hands, while the Wii Remote and Nunchuk™ controller offer a classic control style for the Mario Kart veteran. In either configuration, players can perform speed-boosting tricks with a shake of the Wii Remote.
Players can race as their favorite Nintendo character, or even as themselves! Mario Kart Wii lets players race with their personalized Mii™ characters. And racers will see other Mii characters they have created cheering from the sidelines on some race courses.
Players can compete with up to three friends in their living room. Or challenge up to 11 opponents via Nintendo Wi-Fi Connection in the biggest Mario Kart race yet. All tracks and modes of play are available via Nintendo Wi-Fi Connection, and players can visit the Mario Kart Channel to compete in tournaments, check rankings, see when their friends are playing and download ghost data.
The Nintendo Wii is fascinating to me! The fact that 4 people on so many physical and mental levels can enjoy this one game is incredible! It brings families together!
I was looking around at other great games that we can play on our wii and discovered the the Wii Fit Plus with Balance Board
If you are still wondering what to get dad for Father's Day I highly recommend the Wii Console with Mario Kart Wii Bundle – Black